OH MY GOD!
OH MY GOD!

It's very unbelievable!!!

I feel like I would stop hear music!

You guys know whaaaaaaaaaaat?????!!!!

My only one favourite band EVER in the world, in this universe, Panic at The Disco...

has broken up!!!!

Ryan and Jon has left the band...
aaaaaaaaaaaaaaaah! I can't accept this truth!!!
I think it's just a crap. but, oh God, I can't believe it... it's fucking trueeee!!



It's so sad that Ryan and Jon should go....
I think Ryan is the mastermind of the band...
most of Panic at the disco songs are written by Ryan...
and Jon. he's very talented, and I love his style...
so,

how could the band success without theeem??!
then,

why did they broke up?
I go to their official website.
panicatthedisco.com
and found out this statement...
1st is from Brendon and Spencer...
July 6th 2009
We just wanted to let you know, that the news of Ryan and Jon leaving the band is unfortunately true. It's been an amazing journey being in a band with them, but sometimes individual tastes take friends in different directions and you can't ignore it. They are some of the most talented guys we know, and we're sure that whatever they do next will be great. That said, Panic At The Disco is alive and very very well. We are working on new songs that we are excited for you to hear. Our dates
with Blink and No Doubt start in a little less than a month, and we wouldn't miss those for the world. We know everybody has a lot of questions at this point with everything being so out of the blue, most of those should be answered in the coming weeks. We appreciate every one of you, and hope you continue with us on this incredible ride.
-Brendon and Spencer
Then, Ryan and Jon...


July 6th, 2009
Ryan Ross and Jon Walker will be leaving Panic at the Disco to embark on a musical excursion of their own. Though the four of us have made music together in the past, we've creatively evolved in different directions which has compromised what each of us want to personally achieve. Over the years, we have remained close and honest with each other, which helped us to realize that our goals were different and that parting ways is truly what is best for each of us. We are all excited for the future, you should be too.
-Ryan & Jon
so, it's on July 6th!
I'm so out of date :(
and I heard that Brendon and Spencer bring back the exclamation point '!'. it's strange.
Spencer said that it was for old time's sake,
"For me and Brendon, there were aspects of our first album that did sort of go away on Pretty. Odd. that we'd like to bring back to our band. There's some theatricality and some different styles of music, and we want to make a record that is drawing from both our previous albums," Smith said. "And it just seemed like it would be a fun thing for our fans. Hopefully, there's less of a big deal [made] about it coming back than there was about it going away. It seems like a new chapter, so having that as part of the band seemed like something we could bring back … to reinforce that Panic! at the Disco is not breaking up, it's still going." -Spencer-
source :
lullabyonline.com
Yeah, that's the reason :(
I'm very disappointed with them..
Did they think before decided it?
Did they think how sad the fans will be? especially for the girls?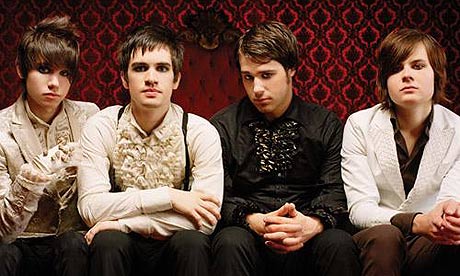 Oh, God..
The world is yours. and You can do anything, even the impossible one.
I really really beg You to unite them again!
Please...
I WANT MY PANIC AT THE DISCO BACK!!!!